Welcome to Universal Plumbing, Heating & Mechanical
Founded in Saylorsburg Pennsylvania in 1992 by John Vincent a family owned and operated business.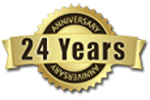 "OUR GOAL IS TO BE YOUR ONE SOURCE FOR ALL YOU PLUMBING, HEATING, AIR CONDITIONING AND WELL PUMP NEEDS FOR YOUR HOME AND BUSINESS" You can expect our service and installation team to be professional and courteous, to always make sure your questions and concerns are addressed and answered. You can expect the highest quality work and materials. You can expect Universal Plumbing Heating and Air Conditioning to be you specialists for all your needs. You can expect SAME DAY SERVICE.
John Vincent earned his degree in electronics while serving in the United State Navy as an In flight aviation electronics' technician repairing navigation, communication, heating and cooling systems. After the service he took up the Plumbing Heating and Air Conditioning field. He formed a Plumbing Heating and Mechanical Corp. As a licensed Master plumber in New York City for over 10 years before moving to Saylorsburg he completed numerous city projects such as the EI Museo del Barrio, Queens Criminal Court, all the Police stations in Far Rockaway, and a few projects for the NYC parks depart and the MTA. He has over 26 years of Plumbing, Heating and Air Conditioning behind him. John Vincent has been to over 75 training seminars, classes, and certifications in the last 10 years. He has received numerous certifications in geothermal heating and cooling design and installation, Department of Environmental Protection Master plumbers license, more than 25 Lennox schools for heating, cooling, heat loss, and gain. Energy Kinetics System 2000 training and certification, Beckett oil burners, Reillo oil burners, Thermal Dynamics, Weil Mclain, Burnham, Dynatherm, and Fujitsu just to mention a few.
Our mission is to provide our customers with the best possible service and equipment for a fair price. We pride ourselves on getting the job done right the first time. Our company motto is NOT "We Do It Nice Because We Do It Twice" We thrive on difficult problems that cannot be solved by others.We have a 2500 square foot sheetmetal fabrication shop with state of the art CNC plasma cutting table. We have state of the art computer programs for fabrication of different sheetmetal fittings. We also fabricate sheetmetal for many of our local competitors.
Our employees are Nate certified.